It is quite normal to see a truck is trucked under bridge, and the drivers will deflate the tares or unload the truck to make it can go through the archways of bridge, which can not only put off the route and break the cargo or carriage, but have effect on traffic order. Actually, every bridge has the height limited sign to warn the drivers in advance, but sometime when the sight is not good, the sign may be neglected. Compared with ordinary traffic signs, the solar traffic sign of height limited is much brighter. If the solar traffic signs are installed on the bridge, more traffic accidents will be avoid, and they are the caretakers of drivers on the way.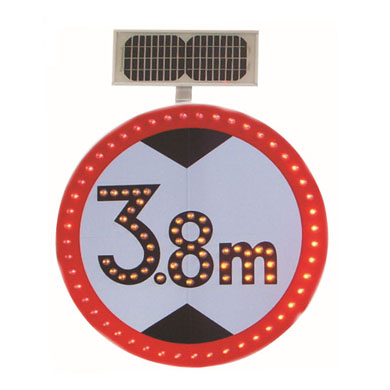 Specifications:
Size: 600mm,800mm,1000mm
Voltage: DC12V
Visual distance: >800m
Working time in rainy days: >360hs

Features of the solar traffic signs:
- Using solar energy, lower consumption.
- Made of aluminum & galvanized sheet.
- High-quality leds, which give out strong light that penetrate thick fog.
- Long visual distance, which is 8 more time of the ordinary traffic signs.
- Designed by integrated circuit and thermo stability rechargeable batteries. Ensure the long serving life and performance of the product.
- Customized service according to the customers' requirement.
- Long working time. It can work over 360 hours if fully charged by solar energy.

First established in 2001, NOKIN has past 15 years in the field of traffic safety facility. It has accumulated rich experience not only in technology, but in sale and installation, so NOKIN will give practical suggestions to its clients. With rich technology, advanced production and complete quality testing system, the products of NOKIN have been sold to America, Canada, Costa Rica, Chile, Philippines, Japan, Russia, Romania, Ireland, Mozambique, Nigeria, South Africa, Australia, etc. NOKIN only provides products of high-quality and compatible price. Welcome to call or e-mail us if you have needs to purchase solar traffic signs or solar road studs.