Solar road studs are a traffic facility which has safety function and are wide used all over the world. The intense brightness of the leds on the studs make them easily to be seen at the distance of about 900 meters under good weather conditions, which decrease the happening of traffic accidents effectively.
The advantages of solar road stud:
1. High brightness.
The brightness of ordinary reflective road stud is only 300 MCD to 400 MCD, while the brightness of led solar road stud can be up to 2000 MCD, 6 to 7 times of the former. The high brightness light from the led road stud can penetrate fog at night to guide the driver safely and effectively.

2. Active emission.
The solar road stud flickers in some frequency at night with strong dynamic warning effect. Active emission of led solar road stud can not only prevent mist interference in the largest extent, but get rid of the dependence of the drivers on car lights with farther and better visual distance.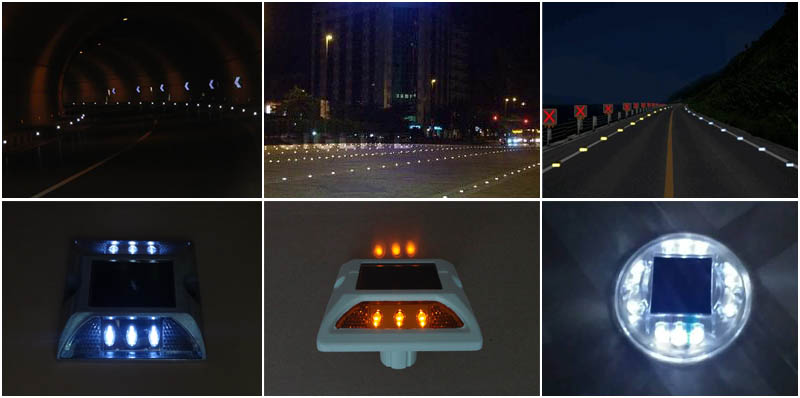 Features of solar road studs:
1. Easy installation. Needs no external power and paved circuit, can be firmly installed by epoxy resin glue or screws.
2. Solar Panel, low power consumption.
3. Excellent warning effect. All LEDs can perform more soundly in active lighting, high brightness.
4. Anti -high (low) temperature.
5. Passed CE, ROHS and ISO9001:2000.
6. Designed by integrated circuit and thermostability rechargeable batteries from solar road studs manufacturers. Ensure the long servicing life and performance of the product.

Why choose us:
1.We have professional technical development team, support OEM services to meet your unique needs.
2. Quick update product line, diverse types of product models to meet your one-stop procurement requirements.
3. Support all kinds of the orders no matter quantity is big or small, totally meet your requirement on all kinds of quantity request.
4. With over 15 years experience in this line, professional manufacturer. Any inquiries will be replied within 24 hours.
China manufacture professional solar road stud.
We specialize in roadway safety industry for more than 16 years. The road studs produced by our company have been exported to many countries, including America, Canada, Russia, Mozambique, Nigeria, South Africa, Australia and so on. NOKIN will always insist the operation philosophy of "High Quality, Reasonable Price, Best Service, Right& Prompt Delivery". If you have any questions about the products or others, you can contact us freely, we will give you feedback in 24 hours.