Led road stud is the flashing solar cell powered and maintenance-free lighting device used in road construction to delineate and /or illuminate the lanes to road users during the day and night. The green reflective studs are charged up during the day by sunlight through the solar panels and flash at night. Embedded in the road surface, led road stud is an electronic improvement on the traditional cats eyes in that led road stud may give drivers more than thirty-second reaction window compared with about 3 seconds for conventional reflective devices. The led road stud is also more visible in rainy and fog conditions where is problematic for the old type plastic reflective road markers. The green reflective studs reduce the necessity of headlight main beams and the accompanying hazard of dazzling oncoming drivers.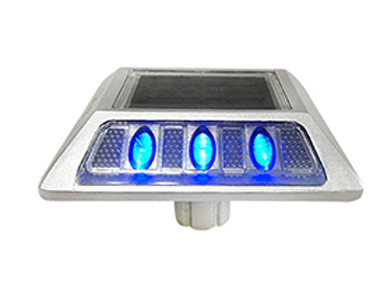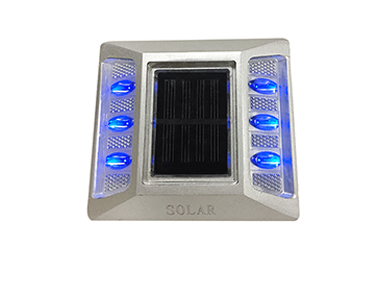 Features of led road stud:
- Solar powered high intensity LED for superior performance in luminosity.
- High Temperature adapt high quality Ni-Mh battery.
- Improved design, reflective installed inside, better water proof performance: IP68
- Aluminum shell with strong compressive resistance.
- Easy to install with virtually no maintenance.
- Red blue white yellow green color.
- Double side led road stud or single face green reflective studs can be designed.
Specification:
Name:
Led solar road stud
Material:
Aluminum+PC
Power supply:
Monocrystalline Solar Panel
2.5V/150MA for NI-MH; 5V/60MA for lithum battery;
3V/120MAH for super capacitor

Battery:
NI-MH 1.2V/ 600mah(high temperature resistance);
Lithum battery 3.2V/500MA
Super capacitor2.3V/120F (made in Korea)
Lens:
PMMA(ASTM D4280 & EN 1463-1 standard)
LED:
Ultra bright diameter 8mm( 6pcs)
LED Color:
Red,Yellow,Green,Blue,White
Working model:
Blinking or constant(charged at daytime, working automatically at night)
Working Hours:
(1).Blinking:140hours for NI-MH battery; 130hours for lithum battery; 30hours for super capacitor after fully charged
(2).Constant:40hours for NI-MH battery; 35hours for lithum battery; 15hours for super capacitor after fully charged
Visual distance:
>800m
Water proof:
IP68
Resistance:
20T
Life span:
2years for NI-MH battery;
5years for Lithum battery;
10years for 120F super capacitor
Size:
123mm*133mm*22+55mm

Packing:
1pc/box;45pcs/ctn
Carton size:
66.5*44*28cm
Weight:
30kgs/ctn
Certificate:
CE & ROHS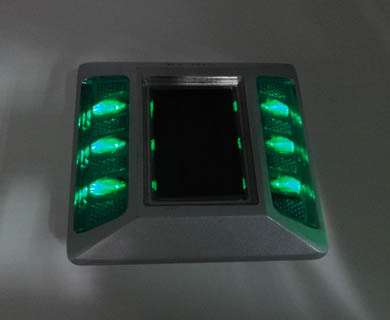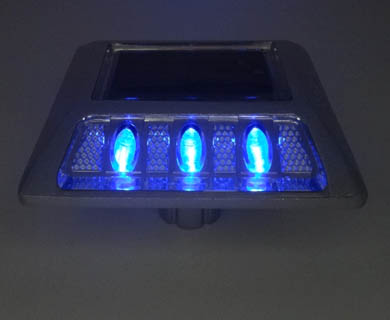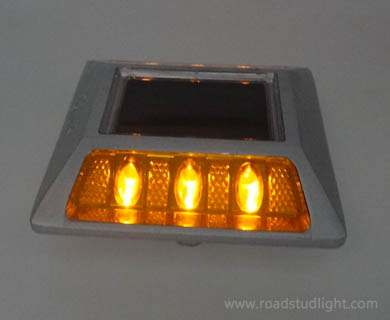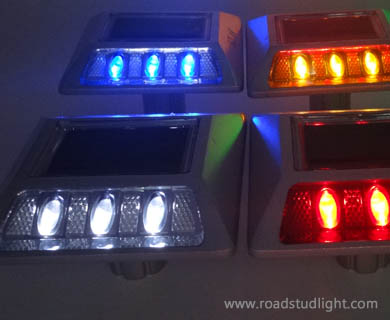 Applications of led road stud.
- Commercial Premises.
- Petrol Stations.
- Indoor & Outdoor Roads, Driveways.
- Convention Spaces or Factories.
- Joint intersections, on and off ramps, center lines and dividers, entrance warnings, carpool lanes, bridges, cross and side walks
- Taxiways at airports, bike and pedestrian lanes, aboard ships and watercrafts.
We are a professional manufacturer of road studs. Our Led Road Studs have been exported to Middle & South America, Middle East, East Europe, Southeast Asia, Africa, etc. If you have any problem with your order, please contact us and we will do our best to make you satisfied.