The solar traffic sign of Linear Guide Sign is installed to guide the way. It can be used in the tunnels or underground garages to warn drivers about the way in advance, which can avoid the happening of traffic accidents. The solar traffic sign used high-quality leds, which can not only high light transmittance, but have a wide-viewing angle. The super grade 3M reflective fillm is used to make it has high visibility. There is solar panel on the board of Linear Guide Sign, it can absorb solar energy and transform the solar energy into electrical energy, which can be transformed into light again to light the way.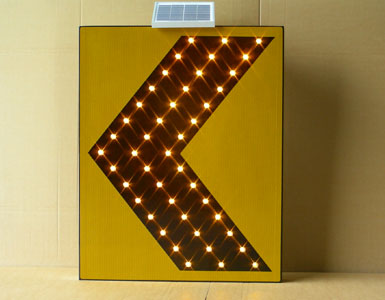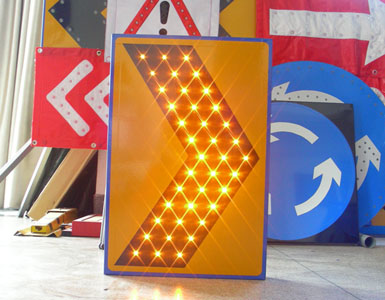 Specifications:
Size:W600mm*H800,W450*H600mm;
Voltage:DC12V,DC 6V
Visual Distance: >800m
Working Time in Rainy Days: >360hs
Features of the solar traffic signs:
- Long working time. It can work over 360 hours if fully charged by solar energy.
- Solar panel on the top of the board to absorb solar energy.
- Designed by integrated circuit and thermo stability rechargeable batteries. Ensure the long serving life and performance of the product.
- Different sized for clients to choose.
- Give out light automatically, not reflect the light giving out by other subjects.
- Made of aluminum & galvanized sheet.
- Long visual distance, which is 8 more time of the ordinary traffic signs.
- Customized service according to the customers' requirement.
- Using solar energy, lower consumption.

NOKIN TRAFFIC FACILITY is founded in the year of 2001, with 15 years manufacturing on solar road studs and solar traffic signs. Strict quality control is implemented in all aspects of operations to meet the high standards. NOKIN is always working on to expand its production line on other advanced solar traffic security facilities. We only provide the products with high-quality, competitive price and perfect after-sale service. Once you have problems in installation or maintaining, we will ask for professional engineers to give you reasonable suggestions. We want to establish long-term cooperation relationship with old and new friends all over the world.