The citizens of Anyang may find that many ground lights are installed on the stop lines of the intersections of Wenming Avenue and Shuguang Road, and the Wenming Avenue and Zhonghua Street, which are confused many people for they do not know what can the lights do.

When people comes to the intersection of Wenming Avenue and Shuguang Road, they will found about ten square lights fixed between the motor way and the pedestrian crosswalk, which can give out blue light. It is known that this is the first time of Anyang to install the cast aluminum
solar road studs
, which can guide the way for drivers and warn them to drive carefully at night or on bad weather conditions.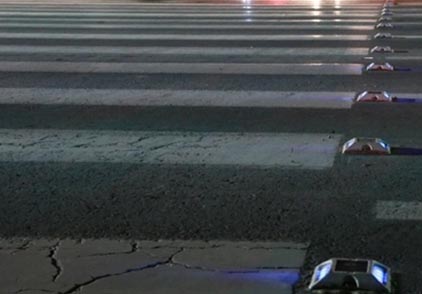 Some citizens are get confused," Are those lights decorations?', "Can the vehicles destroy them?", "What can they do?"

According to the leader of NOKIN TRAFFIC FACILITY, the company which is responsible for the installation of those solar road studs, those traffic facilities are called cast aluminum solar road studs, which are always applied in the expressways or the aircraft channel, and they have the advantages of small size and obvious warning effect. With the development of the city traffic, the solar road studs are installed in many cities, which improves the safety of drivers and pedestrians and beautifies the city.

The solar road studs use the solar energy. When the night approaches, the solar road studs can start the function of flashing. And they can resist the pressure of over 30 tons, and the service life can be three years.
Now, the cast aluminum solar road studs work well in Anyang, and they will be installed in the intersections of Zhonghua Road and Wenfeng Avenue, and the Wencang Road and Zhangde Road in the future.